Staff
« Back to Staff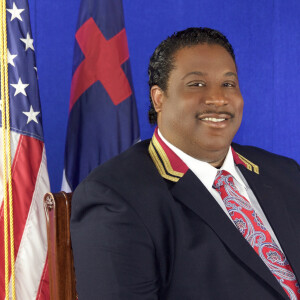 Apostle Darrin Leonard
Campus Pastor, Miracle Christian Fellowship, Times of Refreshing Church
office: (800) 982-4601
Apostle Darrin Leonard is the Overseeing Pastor of Miracle Christian Fellowship in New York, Times of Refreshing Church, Willingboro, N.J. & Miracle Temple Church, Newark N.J. under authority of Senior Pastor, Apostle Joseph Leonard of Ernest Leonard Ministries - One Church in six locations.
Apostle Darrin was groomed under the mentorship and leadership of his father, Apostle Ernest Leonard, along with his grandfather, Dr. Caldwell Thomas. He has attained extensive ministry education and training at Miracle Temple Bible Institute, Victory Temple Bible Institute, School of Deliverance, School of the Holy Spirit, Healing School and the School of the Apostles, where he also served as an Instructor and Dean of Schools. He holds both a Bachelor and Master's Degree in Christian Education and is currently pursuing his Doctor of Ministry Degree.
Apostle Darrin Leonard was called to the apostleship of the Lord Jesus Christ and has the authority to operate in the world as a New Testament Apostle of Deliverance. His consecration and dedication has been proven by the Board of Presbytery of the CCIN. Apostle Darrin serves as the Regional Apostle of the New York Chapter of the Cornelius Connection International Network (CCIN), President/ and Executive Director, Apostle Joseph Leonard.
Apostle Darrin travels throughout the nation teaching and preaching the uncompromising Word of God. He operates strongly in the dimension of Healing and Deliverance Ministry to train, equip and activate Believers to set captives free. Apostle Darrin and his wife, Prophet Velisa Leonard, have been married 18 years and are the proud parents of four beautiful children.