Apostle Joseph Leonard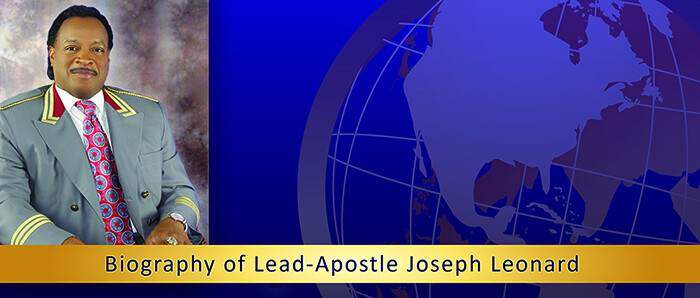 Joseph Leonard is the overseeing Apostle and Chief Executive Officer of Ernest Leonard Ministries at large, encompassing its six thriving campuses, extension schools and networks; such as The Tyrannus School of Ministry and the Cornelius Connection International Network. He has demonstrated active service in local church ministry for the past 35 years. Joseph is the son of Apostle Ernest Leonard, one of the great Generals of our time. On a full-time basis, he has been teaching the Word of God while assisting his predecessor in crusades and church planting since 1982. In Washington, D.C., 1991, Apostle Joseph Leonard was ordained to the pastoral office.
Dr. Ernest Leonard and his beloved son, Joseph Leonard, shared a very special father and son relationship anointing that was displayed throughout the Metropolitan New York-New Jersey-Connecticut and Philadelphia area by way of The Believer's Wake Up Hour radio program – also worldwide through the Hour of Jubilee and The Hour of Restoration television broadcasts on Black Entertainment Television and The Word Network. The impact of this relationship anointing that Dr. Ernest Leonard and his beloved son shared has forged the foundation of this work and set us in motion for a prosperous future. His 34 years as a beloved brother, faithful Minister and fellowservant in the Lord to his father has prepared and positioned Apostle Joseph Leonard for Apostolic succession.
Apostle Joseph Leonard began his studies in 1981 and attained his Bachelor and Masters of Christian Education Degrees from Victory Bible Training School of Ministry, which was an affiliate of the Oral Roberts University. He is currently pursuing his Doctor of Ministry Degree.
In 2007 Apostle Joseph Leonard was called to the Apostleship of the Lord Jesus Christ and has the authority to operate in the world as a New Testament Apostle of Glory. His consecration and dedication have been proven by the Board of Presbytery of the Cornelius Connection International Network.
Subsequent to his 30 plus years of extensive ministerial leadership experience and notable teaching background, Apostle Joseph Leonard is recognized as an international influencer with unwavering ethics and strong organizational acuity. He is well known for his teachings on Biblical principles of success and financial increase. Apostle Joseph's lessons on ministerial excellence, dedication and discipline clearly conveys the aim and purpose of The Tyrannus School of Ministry. The Classes, Seminars and Summit Gatherings are designed to elevate Student Leaders to that new plateau of ministerial protocol.
Apostle Joseph Leonard and Prophet Sherri Leonard, his wife of 36 years, reside in the State of New Jersey. They are the parents of five adult children.