Staff
« Back to Staff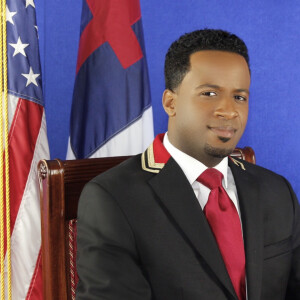 Prophet Gabriel Leonard
Pastor of Worship Arts, Youth & Young Adults
office: (908) 686-3333
Gabriel is a third generation minister with a strong prophetic and healing dimension. He is a devoted son of Apostle Joseph and Sherri Leonard. Gabriel was named by his grandfather, the internationally renowned Dr. Ernest Leonard. While still carrying, Dr. Leonard told Gabriel's mother that he would be a godly child, and a strong and godly man is he today.
Gabriel keenly sensed the Lord's call upon his life, in his early childhood, and soon began pursuing self-abandonment and wholehearted devotion to God. Under the mentorship and direction of Dr. Leonard Gabriel was ordained as a New Testament Prophet, serving as Youth Pastor and Worship Leader. He is an instructor of worship related subjects in the School of the Holy Spirit (NYC campus). Gabriel has an anointing to penetrate the heavens, and release God's presence and glory upon the people of God. To many, Gabriel is known as the "singing prophet." If you've ever attnded a live gathering, you know that music is a major part of the message that Gabriel brings to his audience, and at times, music is the message. From the strike of the first note, the journey begins. He holds a deep-seated passion to ignite young people with the fiery desire for Jesus that he burns with. Among the chief pursuits of his life, is to be one of the building blocks leading towards revival.
Gabriel founded The Herald Band in 2009. The Herald Band is a group of worshipping musicians and singers, who share a deep commitment to Jesus Christ as His intercessory missionaries. It has been said, "this team is like a traveling convergence between earth and heaven; where they go, the heavens are open and the spirit world reacts to their sound". The band frequently leads worship sets at Victory Cathedral in Union, NJ, and also the International House of Prayer (Eastern Gate) in Cranford, NJ. Gabriel and the Herald Band are soliciting the prayers of the Saints to propel their kingdom efforts further.