An Updated Consecrated Life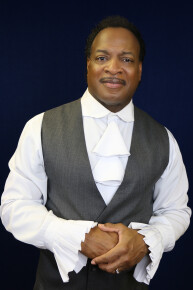 Blow the trumpet in Zion, consecrate a fast!
There are three (3) reasons why starting the year with a corporate fast is a good practice. First, by doing so, you set the course for the rest of the year. Just as starting your day with prayer sets the course for the rest of the day and covers everything that may happen, the same is true of beginning your year with a corporate fast / consecra- tion. You set the course of your entire year by what you do with the first few days of each New Year. You can carry that even further, to give God the first part of every day – the first day of every week – the first portion of every dollar and the first consideration in every decision. Secondly, blessings will happen for you and your fami- ly throughout the year because you fasted / consecrated yourself in January.
Blessings will be finding their way to you because of your sacrifice to the Lord at the beginning of the year. This third point is so powerful. When you fast and pray at the beginning of the year, you release the principle found in Matthews 6:33 "Seek first the kingdom of god and his righteousness and all these things shall be added un- to you" If you seek Him in the first of the Year, get ready for all these "things" to be added to your life through- out the rest of the Year.
Types of Fast
The three (3) types of fast found in scripture are the Absolute Fast, the Normal Fast, and the Partial Fast. First, an absolute fast is extreme and should be done only for very short periods of time. On an absolute fast, you take in nothing – no food, no water. Depending on your health, this fast should be attempted only with medical con- sultation and supervision. On the normal fast, you typically go without food of any kind for a certain number of days. You do drink water and plenty of it! Depending on the length of the normal fast, you may also choose to take clear broth and juices in order to maintain your strength. And then there is the partial fast. A Partial Fast can be interpreted many ways. A partial fast usually involves giving up particular foods and drink for an extend- ed period of time. The most commonly used example of a partial fast is found in the book of Daniel. In the be- ginning of his captivity in Babylon, Daniel and his 3 companions refused to eat the choice meats and sweets from the king's table, asking instead to have only vegetables and water. They did this for 10 days to prove that they would be just as healthy as the King's men. Later, in chapter 10; Daniel began another partial fast, taking no sweets, no meats and no wine for three (3) weeks during which time he was focused in prayer. At the end, his prayer was answered by an Angel.
The duration of fasting can vary. There are significant numbers we find in the bible, which includes three 3 days, 7 days, 21 days and 40 days. There are also references to half – day and 24-hour fast. There is no real formula that I can give you to help you determine which type or length of fast is right for you. The length of time that you choose to fast should depend on your circumstances, but don't get bogged down with the details begin with one day from sunrise to sunset. You will be amazed at the difference even a one day, partial or normal fast will make in your life.
2018 Updated Consecrated Life / Consecration
Repenting and Changing
Scripture: Matthews 3:1-3
In those days John the Baptist came preaching in the wilderness of Judea and saying, "Repent, for the kingdom of heaven is at hand"! For this is he who was spoken of by the Prophet Isaiah, saying: "the voice of one crying in the wilderness: prepare the way of the Lord,"
Repentance is the first message of the gospel delivered by John the Baptist. Repentance is also the last admoni- tion Jesus gave to the church in Revelation 2. Repentance is the way a lost person comes to Christ for salvation, and it is the way a saved person lives daily. Repentance involves our total being; mind, will, emotions.
The bible tells us that godly sorrow produces repentance (2 Corinthians 7:9,10). In contrast, the sorrow of the world produces death. Even though the process of repenting may make us feel miserable, never forget repent- ance is a gift of God, and we should thank Him for it. Without biblical repentance, we cannot know God, nor can we be right with God. Repentance is crucial to God's church for knowing and continuing in revival.
Habakkuk 3:2.
"I stand in awe of your work, oh Lord; in the midst of the years, revive it. In the midst of our years Lord, revive us"
You're In A Process
Everyone God uses greatly has to go through their own wilderness – The wilderness of preparation. When I study scripture, I am amazed by the number of men who had wilderness experiences:
* Joseph found himself in a wilderness of Egyptian, slavery and prison.
* Moses was literally in a wilderness 40 years, on the backside of the desert.
* Elijah went to the brook of Cherith for three 3 years
* David was anointed King and went back to the wilderness with his sheep
* John the Baptist came from the wilderness
* Jesus was led by the Holy Spirit into the wilderness
* Paul, after his conversion, went to the wilderness (desert) of Arabia for several years before
returning to seek out the disciples.
In the wilderness we learn dependency on God. We learn what it means to be separated unto God. We learn humility (Deuteronomy 8:2) "And you shall remember that the Lord your God led you all the way these forty years in the wilderness, to humble you and test you, to know what was in your heart."
2018 Updated Consecrated Life / Consecration
The wilderness gives birth to real men and women of God. You will not have to look for your wilderness when you surrender completely to God. He will get you there. What you have to do is be willing to stay there until your lessons are learned. Wilderness experience can come more than once in a lifetime. Have you been in a wil- derness lately? If so, take heart. Let Him continue His refreshing, reviving work in you.
Sin and Dead Works
John preached repentance from sin and dead works. Sin we understand, but what are dead works? Dead Works are anything you think helps in our salvation or enables us to maintain our salvation. Our salvation is secured in Christ and not maintained by our works. The New Testament speaks of the works of the flesh Galatians 5:19, as well as dead works Hebrews. 6:1.
Both these types of works are deceitful. They can be good things we are doing, but they spring from a corrupt motive or we do them for the wrong reasons. We are commanded not only to repent of sin but also from dead works Hebrews 9:14.
Fruits Worthy of Repentance
Matthew 3:8
What does that mean? Let me suggest Five (5) deeds or attitudes appropriate as fruits worthy of repentance
* An absence of rationalization for sin.
We stop making excuses 1 John 1:6 "If we say that we have fellowship with Him, and walk in darkness, we lie and do not practice the truth." (To walk in darkness is to persist in sin)
* A genuine sorrow over our sins.
2 Corinthians 7:9 "Now I rejoice, not that you were made sorry, but that your sorrow led to repentance; for you were made sorry in a godly manner, that you might suffer loss from us in nothing."
* The Open Confession of Sin
Believers who are repentant want to make things right with those they have hurt. There is no attempt to hide the sin 1 John 1:9 "If we confess our sins, He is faithful and just to forgive our sins and cleanse us from all unrighteousness".
* Restitution, or at least an attempt at restitution is made.
2 Corinthians 2:11 "Lest Satan should take advantage of us, for we are not ignorant of his devices"
* A hatred of our sin.
Hatred to the point we avoid it at all costs Revelations 2:6 "But this thou hast, that thou hatest the deeds
of the Nicolaitans, which I also hate."
2018 Updated Consecrated Life / Consecration Daily Consecration Instructions:
Beginning on Sunday / Monday midnight January 8, 2018 we will start each day: 1. Prayer and Worship
2. Holy Communion / Anointing with oil
3. Meditate morning and evening daily scriptures
We will be fasting each day from mid-night to 3pm. While fasting we will be drinking herbal teas, water, juices and have only fruit. No other solid food is permitted during the fasting hours until 3pm.
Eating: While on and off the fasting hours we will be avoiding all fried foods and sweets
Remember the benefits of praying in tongues building a strong spirit ministry. It charges up your spiritual life, helps you to walk in new realms of authority and spiritual strength. You will receive fresh insight and under- standing of God's Word to build and establish you in the faith (Jude 1:20).
* Featured: The 24-Hour Watch of the Sabbath
Every Sabbath within the Twenty Eight (28) Days of the Consecration
* The Seventh Day (God's Holy Day) beginning at 6pm will be the Open Heaven Prayer Watch. This Prayer Watch will be broken-up into a six hour session / two day watches & two night watches at each Church Campus.
This will be explained further:
2018 Updated Consecrated Life / Consecration
The Scripture Reading for each day is as follows:
Monday, January 8, 2018
* AM - Hebrews Chapter 8 * PM - Hebrews Chapter 9
Tuesday, January 9, 2018
* AM - 1 John Chapter 1 * PM - 1 John Chapter 2
Wednesday, January 10, 2018
* AM - Matthew Chapter 3 * PM - Matthew Chapter 4
Thursday, January 11, 2018
* AM - Genesis Chapter 39 Genesis Chapter 40 * PM - Genesis Chapter 41
Friday, January 12, 2018
* AM - Exodus Chapter 2 Exodus Chapter 3 * PM - Exodus Chapter 4
Saturday, January 13, 2018
* AM - 1 Kings Chapter 17 * PM - 1 Kings Chapter 18
Sunday, January 14, 2018
* AM - 1 Samuel Chapter 16 * PM - 1 Samuel Chapter 17